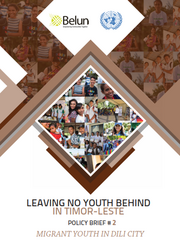 Introduction
Young people are key to achieving sustainable development. It is essential that all young
people receive equal access to quality education, justice, health services, employment
opportunities, chances to participate in society, and to be protected from violence. Through the
adoption of the Sustainable Development Goals in 2015 and the approval of the new National
Youth Policy in 2016 by the VI Government, Timor-Leste has committed to leave no youth
behind.
In support of this national effort, the United Nations (UN) in Timor-Leste and the NGO Belun
are, in a collaborative effort, launching a new policy series entitled "Leaving no Youth Behind
in Timor-Leste". The objective of this series is to increase understanding of the situation and
vulnerability of some specific youth groups and the particular challenges they face in
benefitting from the 2030 Sustainable Development Goals. Each policy brief presents a
situation analysis based on quantitative data from an independent analysis of the 2015
Timor-Leste Census and qualitative data from focus groups discussions (FGDs), as well as
supporting evidence from studies and reports conducted in Timor-Leste. Findings illustrate
the situation of young people in terms of healthy lifestyle, education, employment and
employability, civic participation and violence and crime, as per the National Youth Policy
pillars. The briefs also offer recommendations to Government, civil society, the private sector
and development partners as to how to ensure equal opportunities for these groups in
context of the development of Timor-Leste.
Full review