Universidade  Nacional de Timor-Lorosa'e (UNTL), Dili, Timor-Leste, 11/04/2019 -  To celebrate the launch of the State of World Population (SWOP) 2019 Report, UNFPA Timor-Leste held a seminar for the students of the Faculty of Philosophy and Humanities at the UNTL. The UNFPA Timor-Leste Country Representative, Ronny Lindstrom, opened the seminar by highlighting the importance of population programs and how in the past 50 years, the global movement to empower women to make their own decisions about whether, when, how often and with whom to become pregnant gained momentum. The right to decide freely and responsibly on the timing and spacing of children was acknowledged in Cairo, in 1994, at the International Conference on Population and Development (ICPD), where 179 governments endorsed a global program of action that linked women's empowerment, rights and sexual and reproductive health to sustainable development.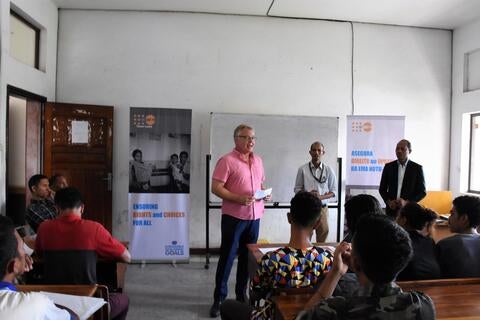 Dr. Martinho Borromeu, Dean of Faculty of Philosophy welcomed UNFPA Team to the University and launched the SWOP with students from Philosophy Department. He further encouraged all students to take this rare opportunity to gain more general knowledge on population issues.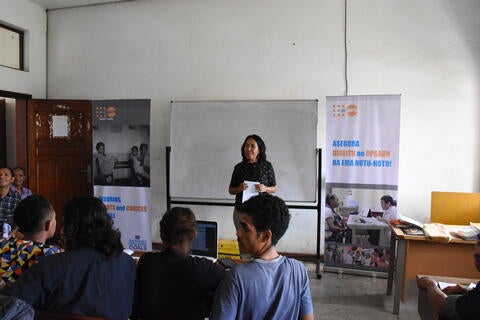 After the opening remarks, Dr. Sarmento, UNFPA's Reproductive Health Program Analyst gave a presentation on reproductive health, and the importance of family planning. Furthermore, Mr. Mario de Jesus Ximenes, the UNFPA Youth Programme Analyst gave a presentation on Adolescent Fertility in Timor-Leste. The presentation included a section on adolescent fertility rate of Timor-Leste as compared to neighboring countries, such as the Philippines, East Nusa Tenggara Province of Indonesia (NTT), and Myanmar.
The seminar was concluded by a Question and Answer session where the students asked many pertinent questions regarding reproductive health, fertility, and gender issues. In the concluding remarks, Dr. Duarte Barreto, on behalf of Philosophy Department once again thanked UNFPA for the valuable information shared with the students. He emphasized that UNFPA's initiative to partner with this department is highly appreciated.
***
UNFPA is the lead UN agency for delivering a world where every pregnancy is wanted, every childbirth is safe, and every young person's potential is fulfilled. UNFPA reaches millions of women and young people in 155 countries and territories, including Timor-Leste.
For more information, please contact:
Secondinho Salsinha: salsinha@unfpa.org / Roderick T.J. Buiskool: buiskool@unfpa.org
You can access the report at: https://timor-leste.unfpa.org/en/publications/state-world-population-rep...