UNFPA: Delivering a world where every pregnancy is wanted,
every childbirth is safe and every young person's potential fulfilled.
17 November 2016
Launching of results of the 2015 Census of Population and Housing
Dili, 17 November 2016 - The vice Minister of Finance, Mr. Helder Lopes launches the 2015's census result at the meeting room of Ministry of Social Solidary, Caicoli. The launches ceremony is attended by representative of line ministries, UN agencies, diplomatic corps, national and international agencies and other partners.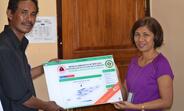 A PLAN TO EXTEND AND FURTHER STRENGTHEN THE PROGRESS OF THE EmONC PROGRAMME IN TERMS OF...

Maternal and newborn health is a top priority of the Government of Timor-Leste. Efforts...
No vacancies currently available