International Day of the Midwife, 5 May 2017: Midwives, Mothers and Families: Partners for Life
The Midwifery Association of Timor-Leste (MATL) commemorates the International Day of the Midwife on 5 May 2017. The theme for this year is Midwives, Mothers and Families: Partners for Life.
Ms. National de Araujo, the President of MATL thanks to all midwives, and guest audiences who participates in this commemoration of the special day to all midwives all over the world particularly in Timor-Leste. It is a good opportunity to gather together to share and commemorate this special day. Midwives are heroes for women's life. They always ready to help mothers and families when needed. But there are still challenges and difficulties they face when performing their work, such as lack of transportation means, lack of space to accommodate number of current midwives who wants to upgrade their educational level from Diploma I to Diploma III and undergraduate level, lack of facilities and others issues. In this regard on behalf of MATL I would like to bring these issues to the attention of the parliament and government to consider improving these conditions. Thanks UNFPA for providing financial support for the commemoration of this special day.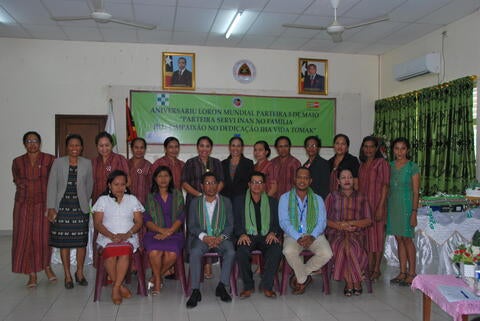 The Assistant Representative of UNFPA, Dr. Domingas Bernardo, first congratulates all Timorese midwives on this special day. She states UNFPA celebrates the heroic and life-saving work that midwives do every day, often in very trying circumstances. Thanks to midwives, millions of women each year are able to exercise their right to sexual and reproductive health services, including voluntary family planning. These services help ensure wanted, healthy pregnancies and safe births. UNFPA strongly supports the training and work of midwives in more than 100 countries. In Timor-Leste particularly we have been supported the Midwifery Association through the establishment of the Midwifery School in the National University of Timor-Leste in 2001 and provide others on-going related trainings. UNFPA continues its commitment to continue its support to the MATL. It then follows by handed over of a set of desktop to MATL to the president of MATL. The desktop will be used to support the design of database for all members. The data based will include data on education level, retirement age, base of all its members in regard of their educational level, their retirement age, what training they have.
Mr. Eladio Faculto, the representative of Commission F of National Parliament states that midwives work help to reduce mortality and morbidity of mothers in Timor-Leste. Despite difficulties and challenges but they continue to provide assistance to mothers and women. Therefore I would like to request to the Ministry of Health (MoH) to take actions and plans accordingly of its budget to response to those issues raised by the MATL. Furthermore Mr. Jose Magno, General Director of MoH says the MoH is fully aware on those mentioned issues, and we have been taken some steps in responding to these. For example we have been communicating and finding some external possibilities to accommodate our midwives who want to upgrade their education level within our country through National University and other countries as well. We believe slowly we can respond to all of those problems. After his brief remark it then follows by opening of the ceremony.
After the opening ceremony it follows by the sworn ceremony of New Board member of Dili's Midwifery association and it ends with session on various presentations on EmONC Improvement plans, national family planning policy and Gender Based Violence. Participants in the commemoration are representatives from Commission F of the National Parliament, Ministry of Health, UNFPA, WHO, HAI, CCT, others partners, and all representatives of MATL of 12 municipalities and special region Oe-cusse.